Delhi FFA is having a Drive Thru Chicken BBQ on Thursday, Sept. 22 Buy your tickets from any officers - $10 each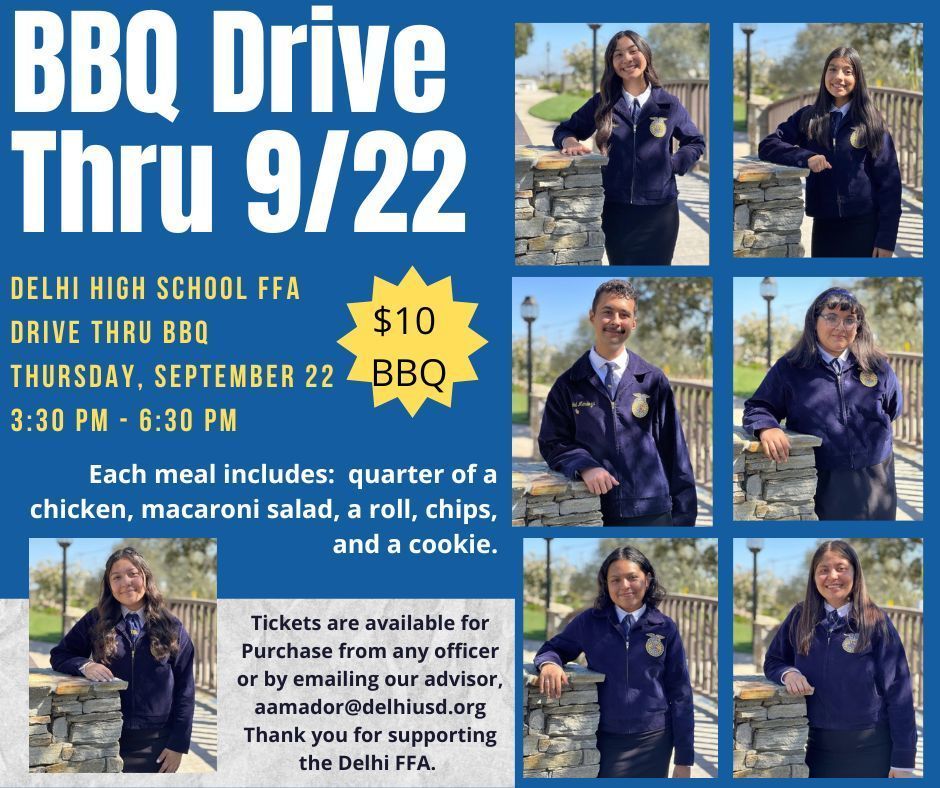 Safety Community Forum had its first meeting on Tuesday, August 9, 2022. Thank you to all our parents, community agencies, and staff that attended our forum. Select the http link to view the presentation:
https://5il.co/1gmv2
We hope you can join us at our next meeting on Tuesday, September 13 at 5 PM in the Sarah Clegg Room.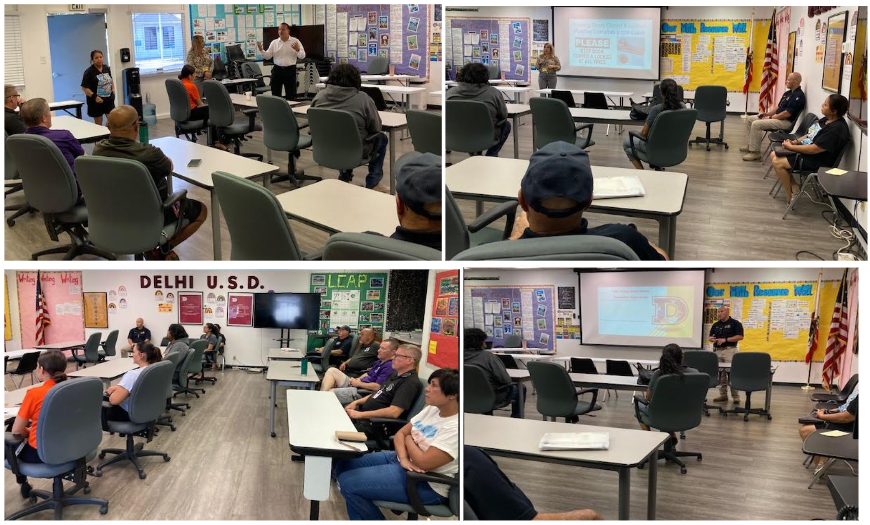 Congratulations Delhi Middle Class of 2022! Promotion is June 2, 2022 at 7:30PM at the football stadium. Gates open at 5:45 PM. Tickets and security check are required to enter. Friends and family unable to attend can watch live on Youtube:
https://youtu.be/n9nkBvtX0xM

Great news, we have received 3,500 home Covid-19 test kits to distribute to the community. The kits are given out free, and no personal information is required. Instructions for kit use will be given out with the kits. These kits can be given to any Merced county residents. Distribution will be at Ed Park and El Capitan Elementary from Tuesday through Thursday. See the attached flyer for details on time. Delhi Ed Park (Middle School/High School campus) Tuesday, Dec. 14, 1:00pm - 4:00pm Wednesday, Dec. 15, 1:00pm - 6:00pm Thursday, Dec. 16, 1:00pm - 4:00pm El Capitan Elementary School Tuesday, Dec. 14, 1:00pm - 4:00pm Wednesday, Dec. 15, 1:00pm - 4:00pm Thursday, Dec. 16, 1:00pm - 4:00pm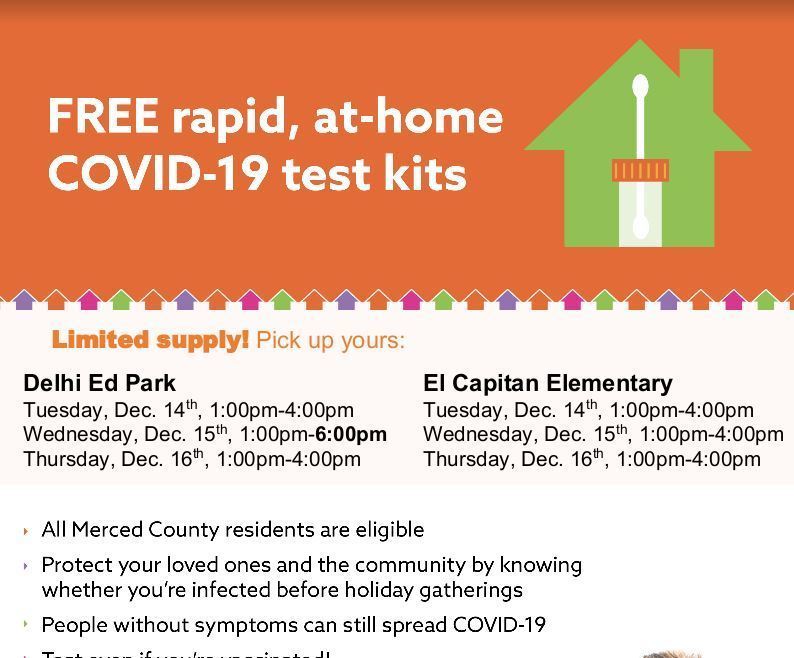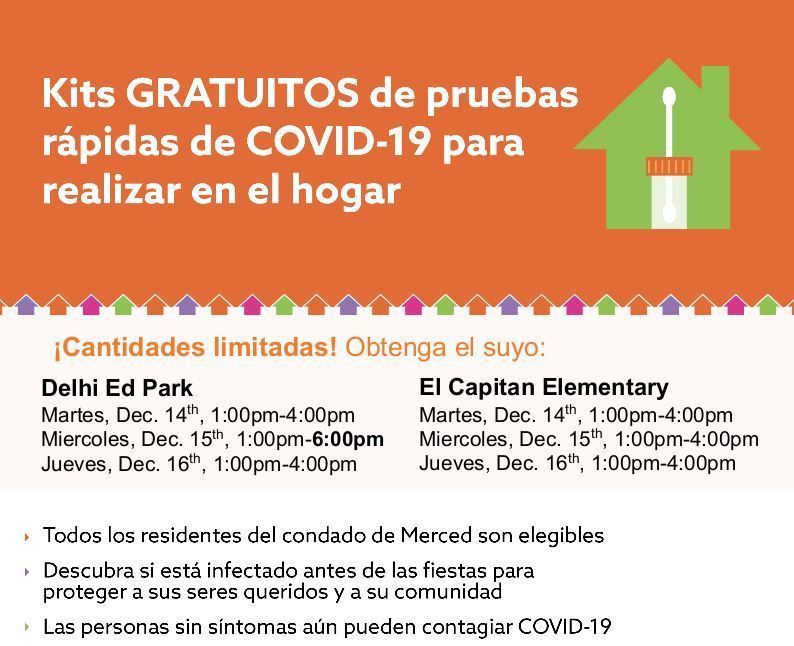 Thank you Delhi Food Service for sharing. Here is a picture of today's lunch at our favorite Station - Chicken Pozole with all the fixings' and sides, Diced onions, Radishes, and lemon's wedges, and shredded cabbage all for students at Delhi Middle School and Delhi High School to select.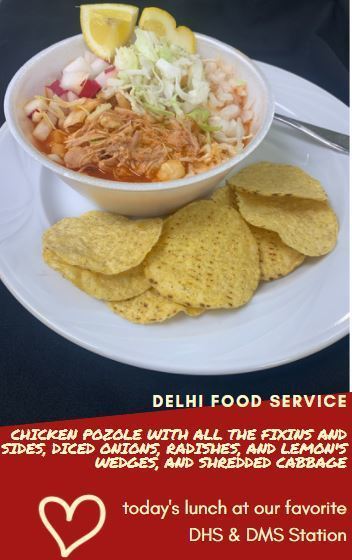 Just in time for the Winter Break, State Superintendent Tony Thurmond is giving the Gift of Literacy to all California Students and Families by giving them free access to thousands of digital books and reading materials through January 31, 2022. Please check out
https://www.myon.com/index.html
for this wonderful opportunity. Login for free access until 01/31/2022: o School Name: Gift of Literacy o Username: myon o Password: read Any California student can benefit from 24-hour access to thousands of myON books in English and Spanish until January 31, 2022. Students can easily browse or search the digital library to find books to match their interests and grade level. There are also options for students to read books online or offline.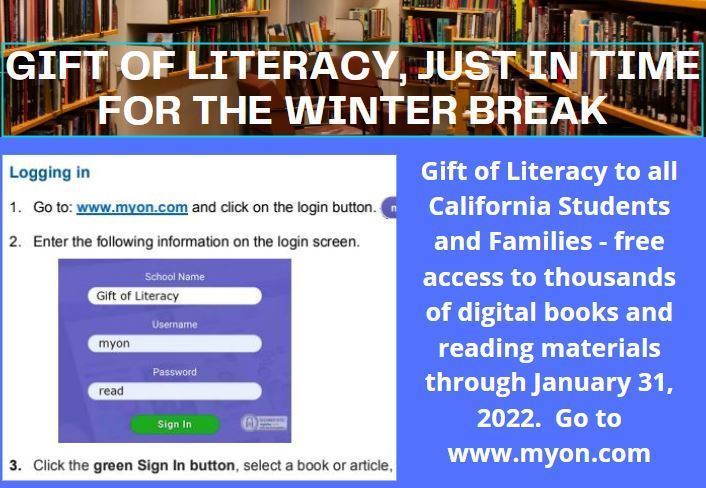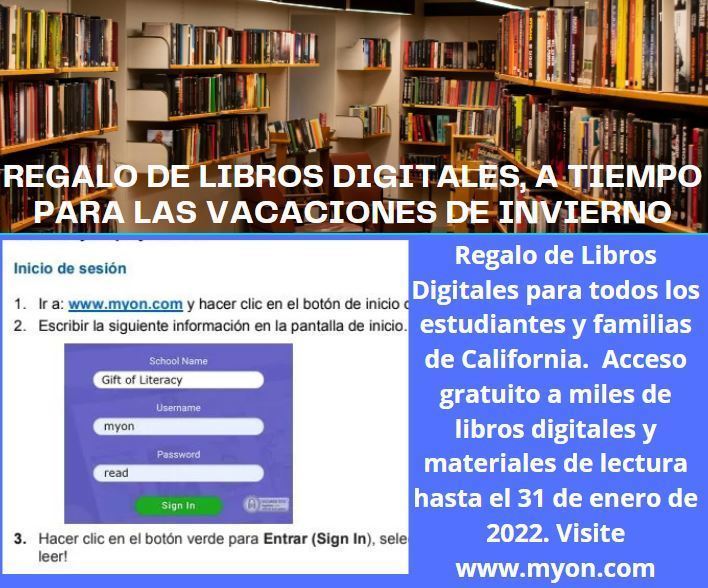 Delhi Food Service takes pride in serving our students delicious meals everyday. Delhi Middle School and Delhi High School have multiple options to select from during lunch. Here is a snapshot of what our staff in food service have prepared this month.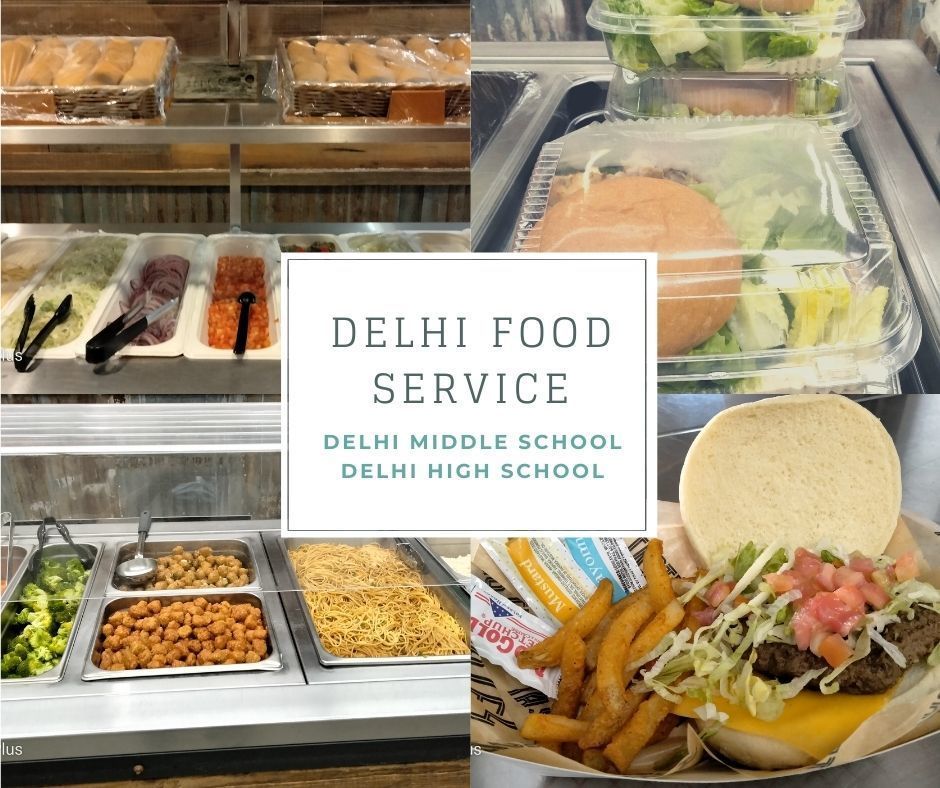 Please help us in welcoming Adrian Hurtado to the Delhi Nursing Team! Nurse Adrian comes to us with a background in school nursing. He and Nurse Marsh will be working collaboratively, along with our health clerks, to achieve the optimal health services for our students and their families. Nurse Adrian will be working primarily with El Capitan Elementary, Harmony Elementary, and Schendel Elementary. Nurse Marsh will be primarily working with Delhi Middle School, Delhi High School and the preschool age students. Thank you to everyone on the health team for all you do.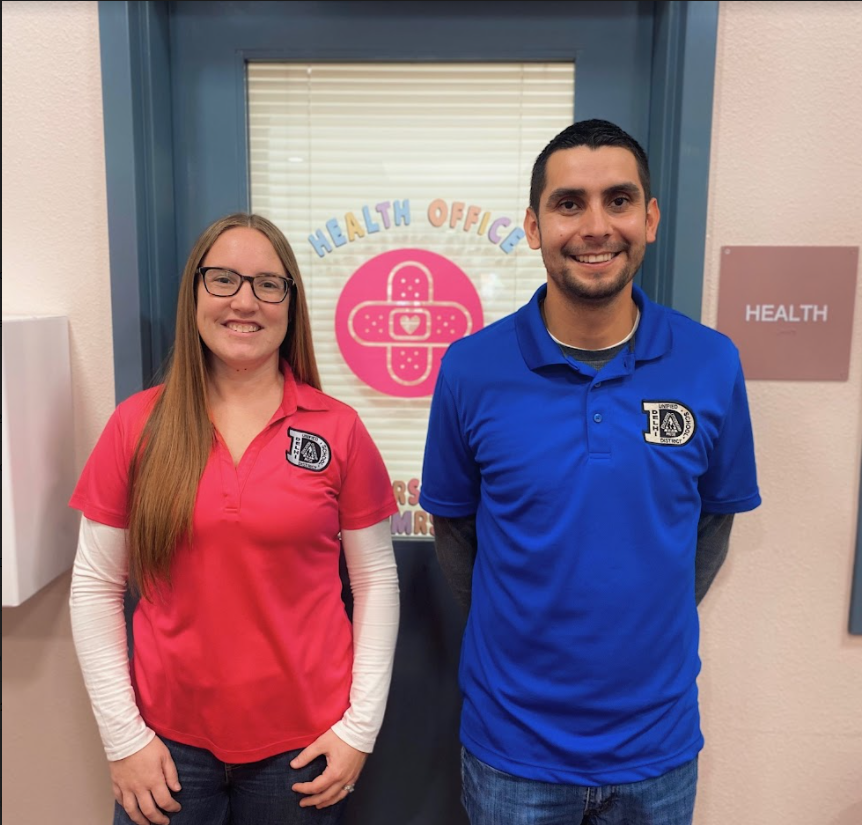 Delhi High School FFA is having a fundraiser. Help support our Future Farmers of America members and purchase some See's Candy and/or a Poinsettia Flower for the holidays. Submit all orders by December 3.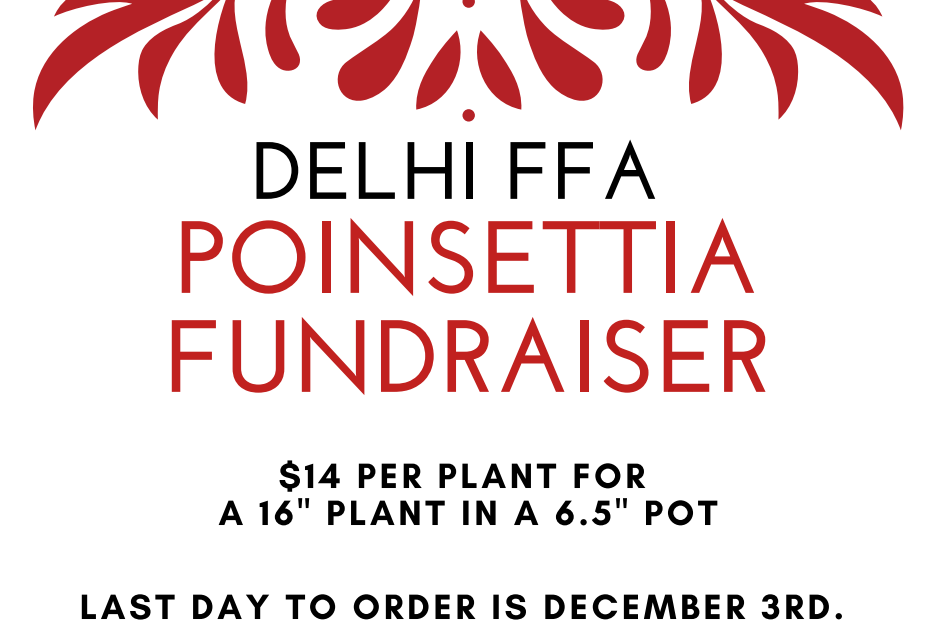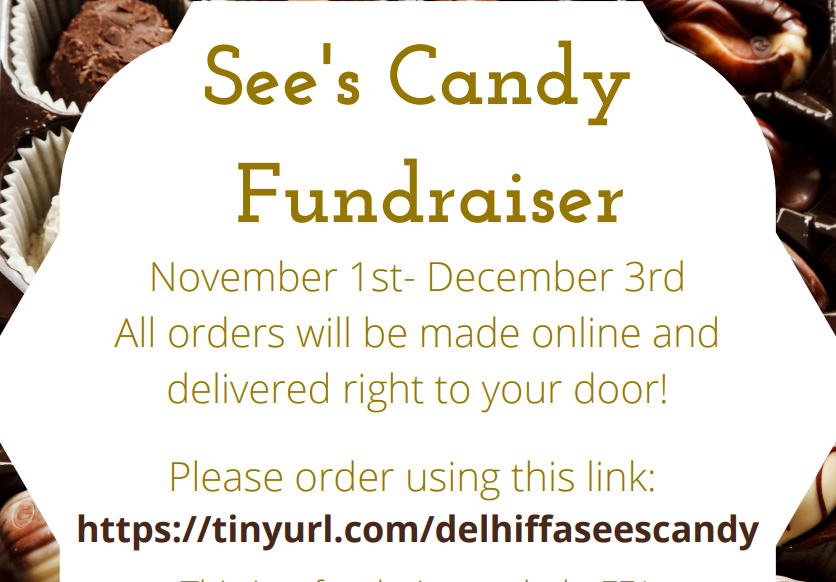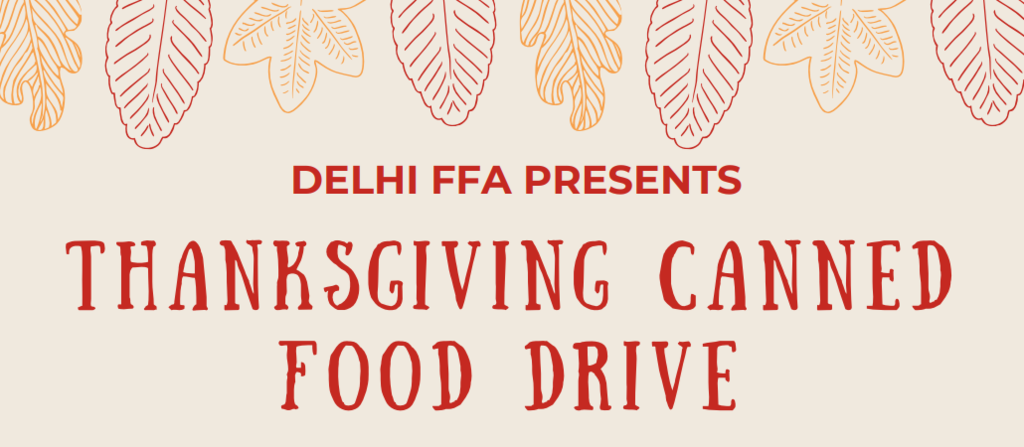 Worknet Merced County, Gateway Adult Education Network (GAEN), and the Merced County Office of Education invite you to join on Saturday, October 23, from 10 am to 2 pm at the Merced Adult School in Merced. The Culture and FAmily Day will offer resources, services, a hiring event, fun activities, raffle prizes, and more. Bring family and friends.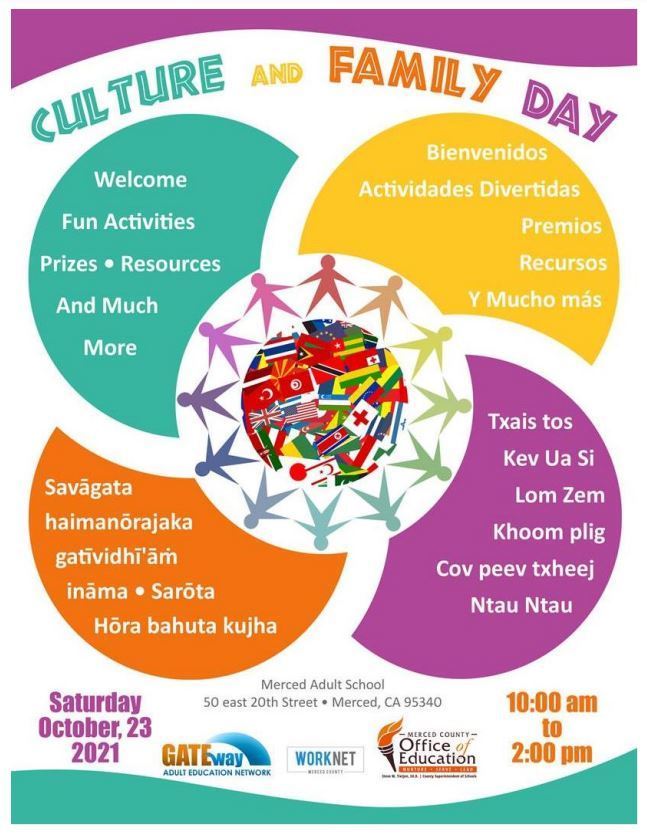 Superintendent Search The Governing Board of the Delhi Unified School District is looking for our next Superintendent. Over the next couple of weeks, the Board will reach out to all of our stakeholders for feedback and input on the search for our next District leader. We look forward to your participation.

Estimadas Familias, Por favor estén atentos a los anuncios que las escuelas están compartiendo acerca de los procedimientos del comienzo del año escolar. Esos procedimientos nos permitieran abrir nuestras escuelas efectivamente para nuestros niños, personal, y familias. Gracias

Dear Parents, Please be attentive to announcements from your schools on first-day-of-school procedures! The procedures will ensure a safe and orderly opening for our students, staff, and parents!

Dear DUSD Family, Please join me in welcoming Mr. Alberto Felix as the new Principal at Harmony Elementary. Mr. Felix comes to us with many years of administrative experience and is eager to serve our students, staff, and community. Welcome, Principal Felix!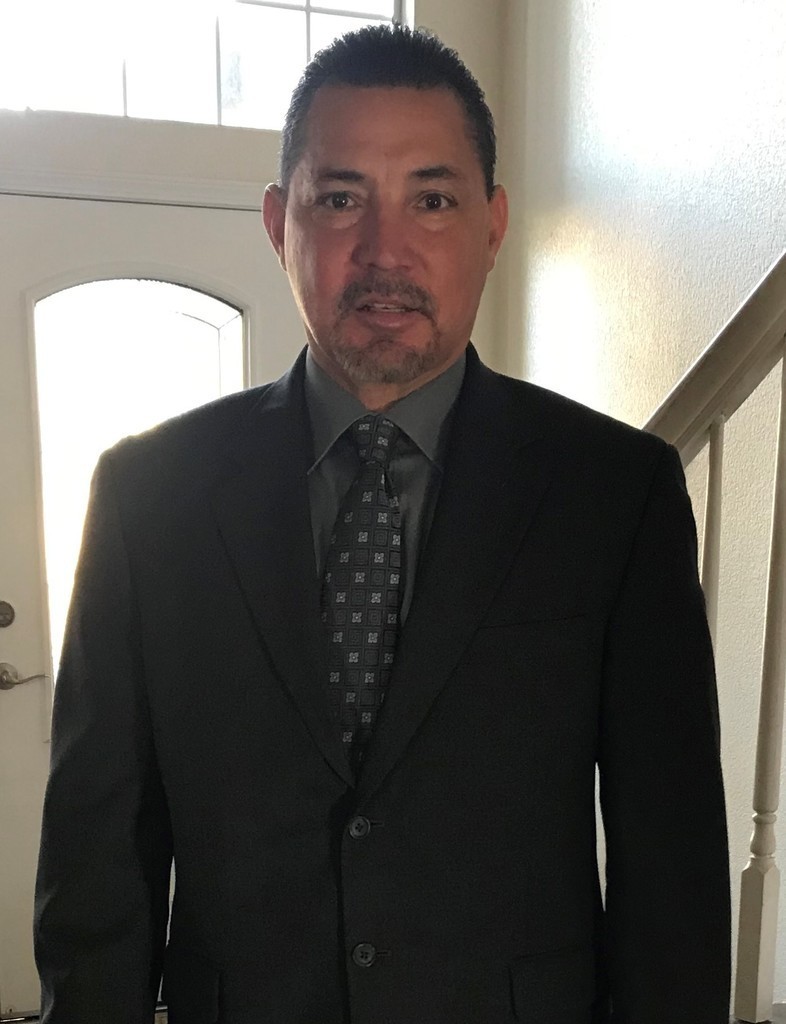 Back to School Vaccine Clinic Schendel Elementary Wednesday, August 4, 2021 5:00 p.m. -- 7:30 p.m. 16114 Schendel Avenue Delhi, CA 95315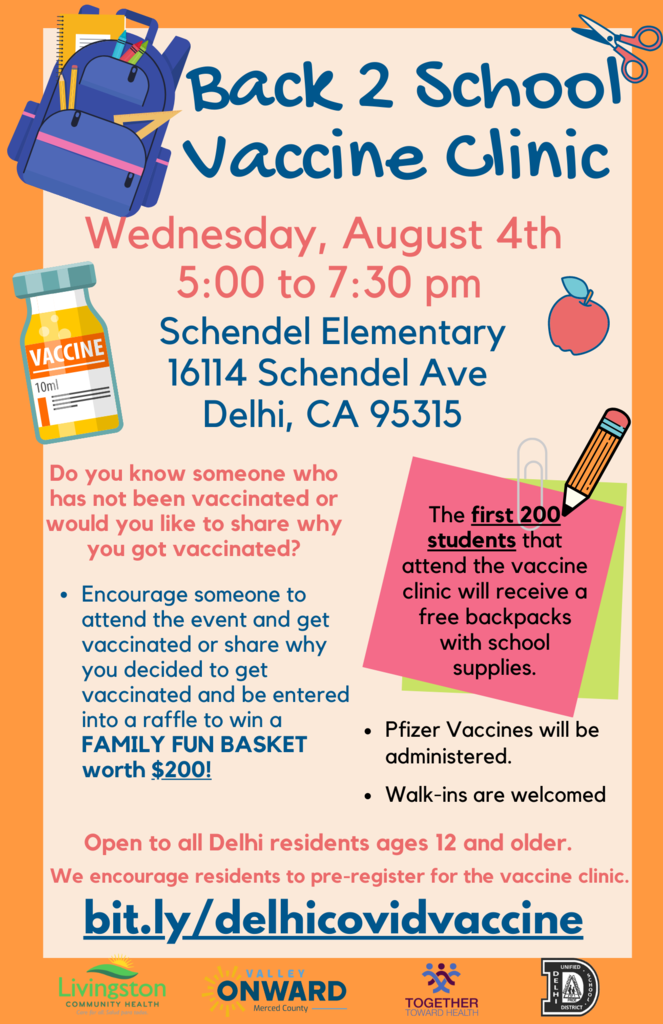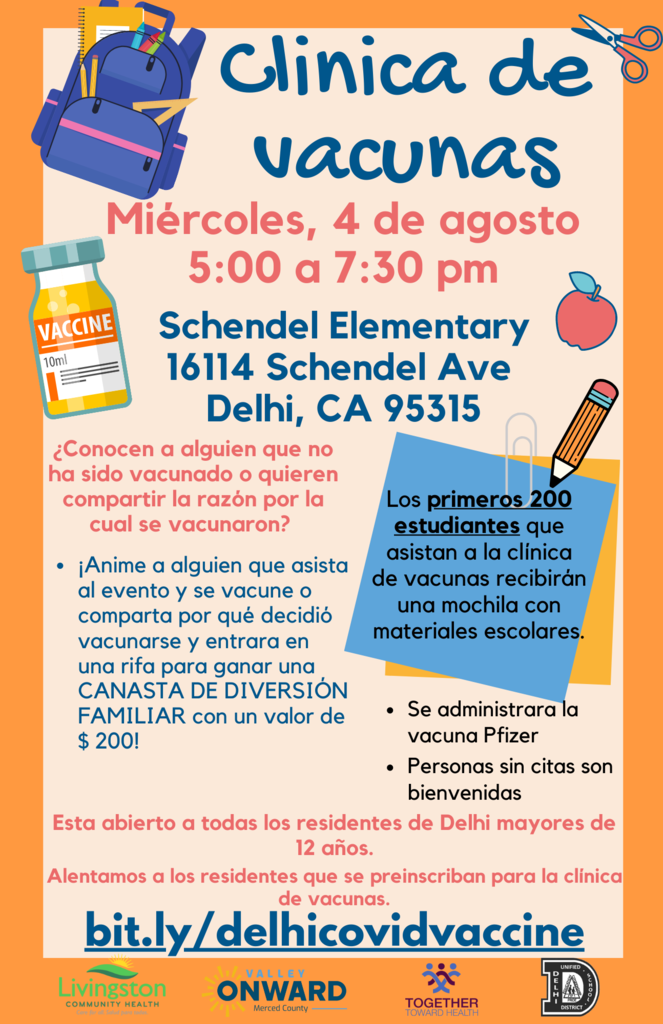 Gracias al Sr. Cabrera, padre voluntario, Sr. Cortez y Sr. Acosta, empleados de DUSD, por apoyarnos en pintar edificios en el Ed. Park!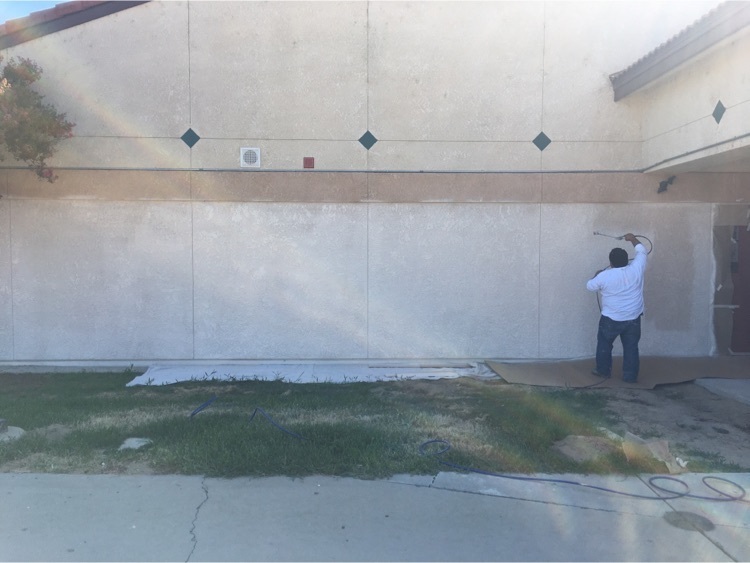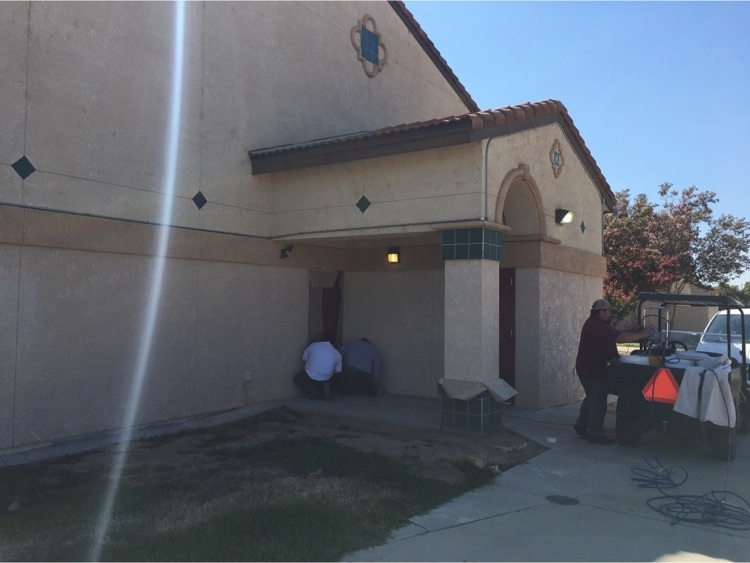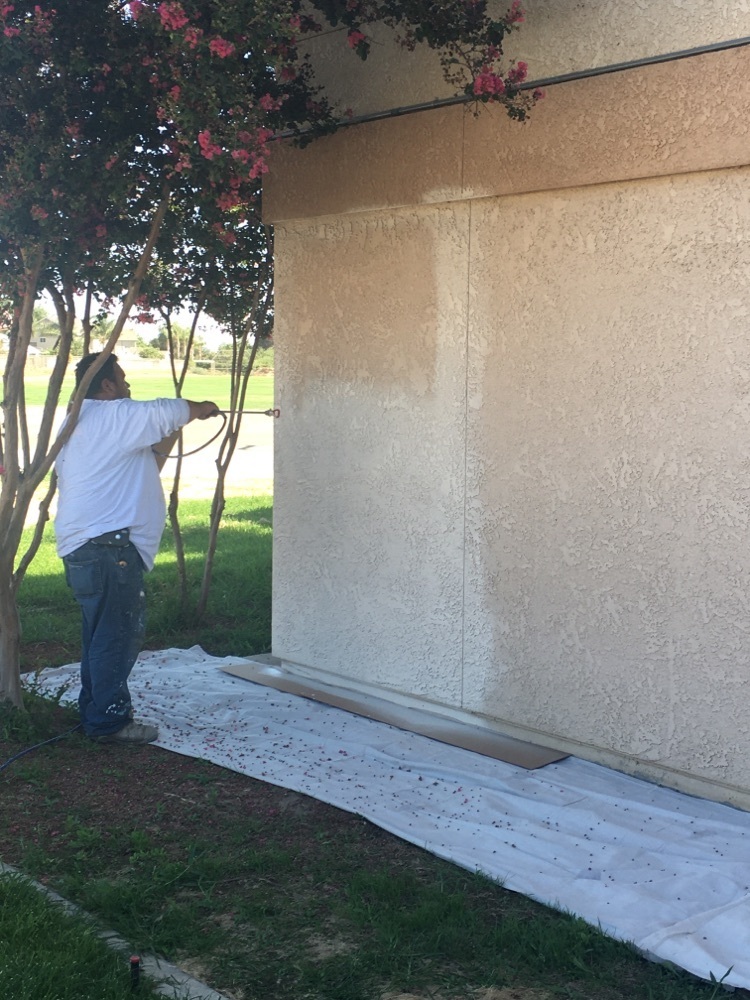 Our principals returned yesterday! Our teachers return on July 30th Our students return on August 3rd! Our 2021-2022 school year is about to begin! Let's get ready, everybody!!!

Mark Your Calendars! Tuesday, August 3rd: First day of school Marque sus calendarios martes, 3 de agosto: Primer dia de clases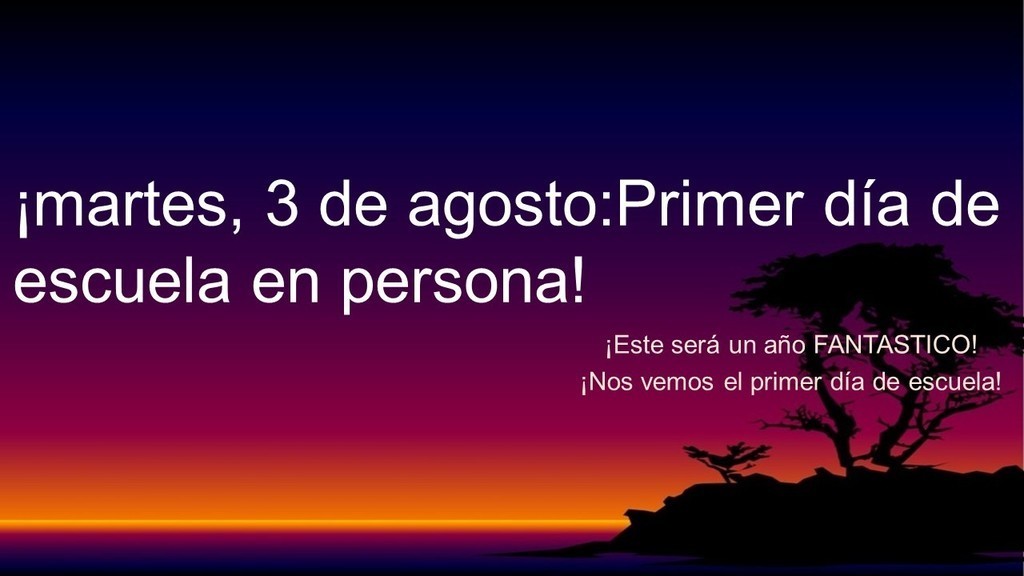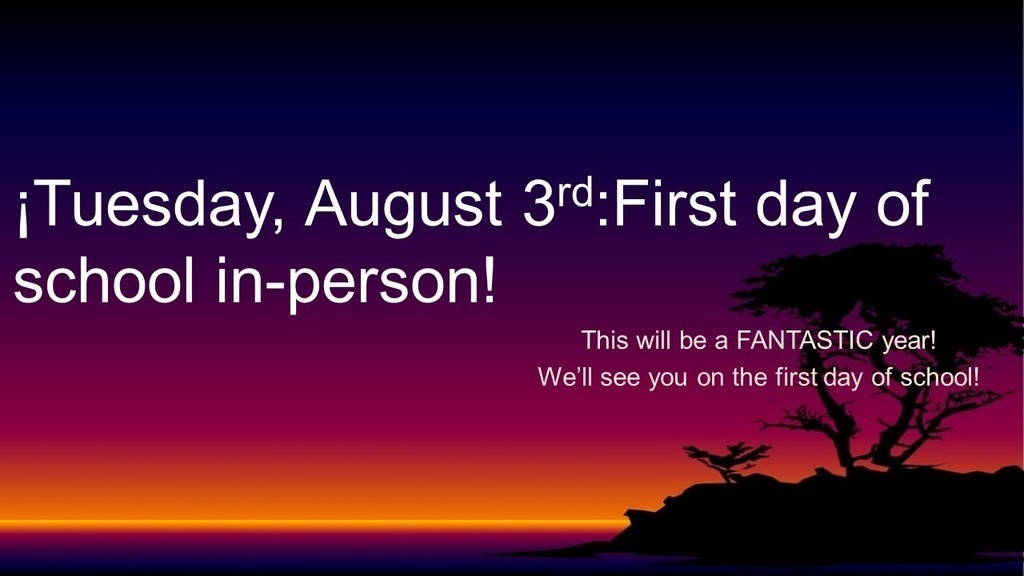 Tuesday, August 3, 2021: Our First DAY of...SCHOOL!!! We are excited to welcome ALL of our students BACK for In-person instruction!!! Dear Families, please start getting ready! It's Time!!!

A big THANK YOU to Chef Tenorio for offering this wonderful parent culinary class this summer. Look at the wonderful dishes and wonderful presentations! Congratulations to the close to two dozen parents who signed up for the class.